Neem Team Mom on Dec 31st 2020
Back in November, I started a new gym hoping to start my new year resolutions early and start getting fit and healthy before everyone else flocked to the gym in January. I've learned over the years that there is no magic cleanse, no ultimate detox and no miraculous diet pill to instantly shed the pounds. With roughly 40 lbs to lose, I've got a lot of work to do! I have already started my journey with neem, taking neem leaf capsules, drinking neem tea and using the Blemish Buster cream to help with my acne but exercise is one of the missing links in my journey. So I thought it would be fitting to talk about what's in my gym bag to share with others who may be on the same path.
I've got two young and active kids and work full time which leaves very little time for myself in between school drop off/school pick up, work and school sports. So now that I'm going to the gym, I need to make sure I'm as efficient as possible and have everything I need so I can get in and out of there quickly. All while continuing to use some of the same great neem products I've grown to love.
What to pack in your gym bag: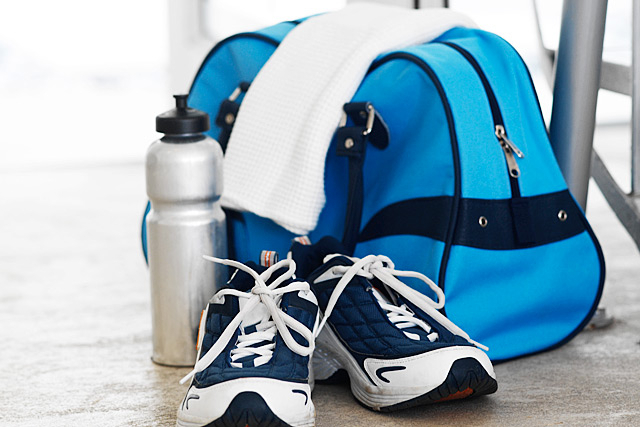 Gym Bag- This is a no brainer, you are going to need something to lug around your gym essentials.
Shampoo/Conditioner- I pack up the travel size Neem Oil Shampoo and Conditioner in my bag but to save money, I refill them using the regular sized bottles that I ordered for my home shower.
Workout clothes- Shoes, socks, pants, sports bra and top. (maybe a swimsuit if your activity will be swimming) Simple and sweet. These are a must!
Neem Body Guard Soap and Soap Saver- I have become a soap snob since using neem oil soap and so this was a must in my bag. Bonus: Neem has natural antibiotic and antiseptic qualities which help protect you from germs in the gym.
Towels- Hand towel to use while working out and wiping off sweat and a full size towel for showering off. I replace these after every visit.
Deodorant- Aluminum Free Lemongrass Neem Deodorant. A must to feel refreshed and clean after a nice workout.
Everything Else- Blemish Buster Neem Cream, make up, flip flops, hair brush, Hand and Foot Neem Cream, ear buds to listen to tv on the treadmill and a water bottle!
Now that I type this all out it seems like a lot of stuff for such a short amount of time but once you have the essentials in your gym bag, the rest is easy! So what's in your gym bag? What time saving tips do you have? I'd love to hear about your journey to good health!