The Neem Queen on Apr 13th 2017
All About Neem wasn't a company that was started overnight with great plans to 'Neem the World' but instead started as a personal mission to find a natural way to improve specific health ailments that were affecting our family. In the course of several years, we learned so much about the benefits of neem and became walking testimony on how it improved our lives and wanted to share what we learned with others. One of the other great things we learned in our journey for reclaimed physical health was the need to also improve how we live and enjoy the life and family around us. We learned to slow down, listen to others, enjoy our kids, grandkids and friends and most importantly, be thankful.
Two things we love to do as a family is head outdoors and EAT! So couple up soaking in the beautiful sunshine and a enjoying a nice healthy meal and you've got a beautiful marriage. What a great way to improve your mental and relationship health by packing up a picnic and heading outside. Picnics can come in all shapes, sizes, budgets and locations so do what works for you and just enjoy.
Where to have a picnic?
Picnics ideally take place in a scenic landscape such as a park, beside a lake, or with an interesting view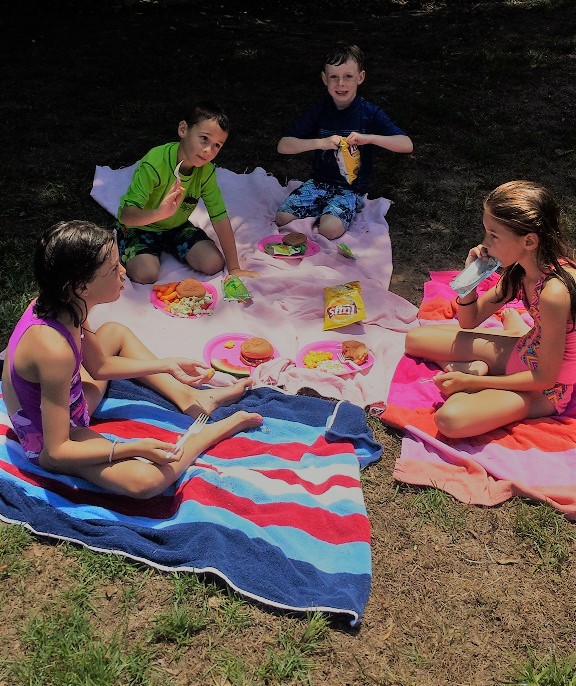 and even at a public event such as before an open-air theatre performance, and usually in summer. The great thing about picnics are how flexible they can be and don't have to follow a defined set of criteria. On rainy days, we've been known to throw out a big blanket on the living room floor, open the windows and dine 'in the rain'. But one of our all time favorite picnic spots is on the boat. Whether we are out fishing as a family or cruising up the river sightseeing, a floating picnic is at the top of our list!
What to pack for a picnic?
Well….it depends. A picnic can be as simple as picking up takeout and having an impromptu picnic on a park bench or as extravagant as the traditional red and white checkerboard blanket, wicker basket, wine, cheese, crackers, fruit, desserts, candles and more! Here are a few questions and things to think of when planning your next family picnic.
How many people will be joining you?
Are there any special food considerations to take into account?
What is on your menu? Sandwiches, finger foods, chips, dips, fruit, take out, desserts….
Do you need to pack plates, silverware, cups and napkins?
Do you need a cooler? You will certainly want something to drink!
What will you sit on? Do you need to bring a blanket or towel?
Will there be bugs? If so, don't forget your Neem Buzz Off Mosquito and Bug Spray
For our boating picnics, our menu is pretty simple. Sandwiches, chips, fruit and some sweets for the kids. We pack a cooler with some water, sodas and adult beverages and we are good to go! Keeping it simple is key for us so we can spend less time planning and more time enjoying each other's company. If you haven't taken a picnic in a while, get outside and enjoy your surroundings with the friends and family in your life. You will be glad you did!
Walk in Good Health!
The Neem Queen and family, enjoying a laid back picnic in Yellowstone National Park.